Kitchen interior design for two generations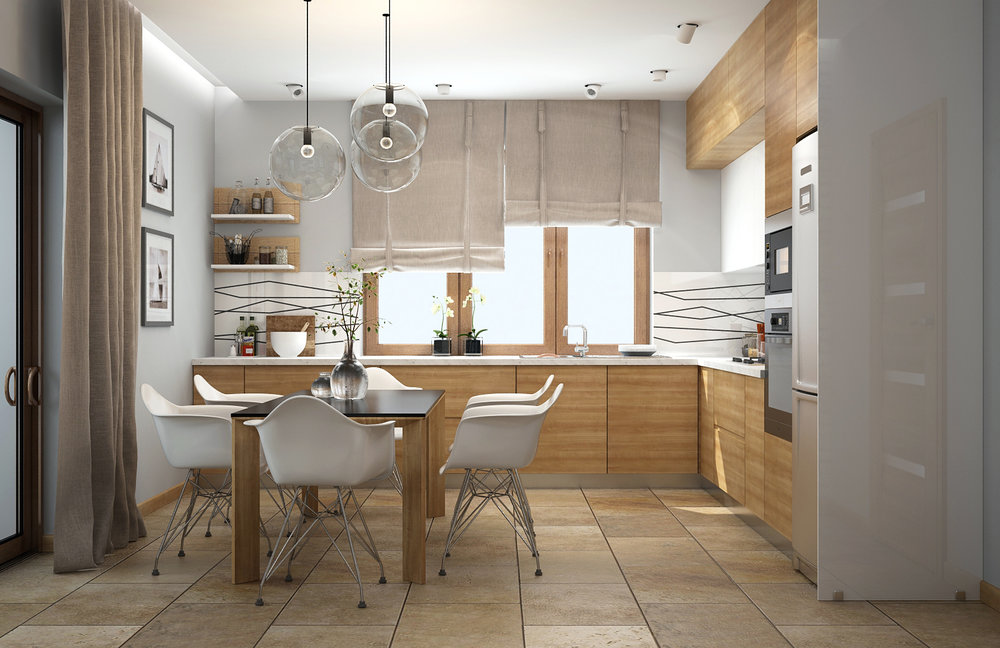 Start of design:

2015

Delivery Date:

2015

Property Size:

20 sq.m

Style:

modern

Works:

design, visualization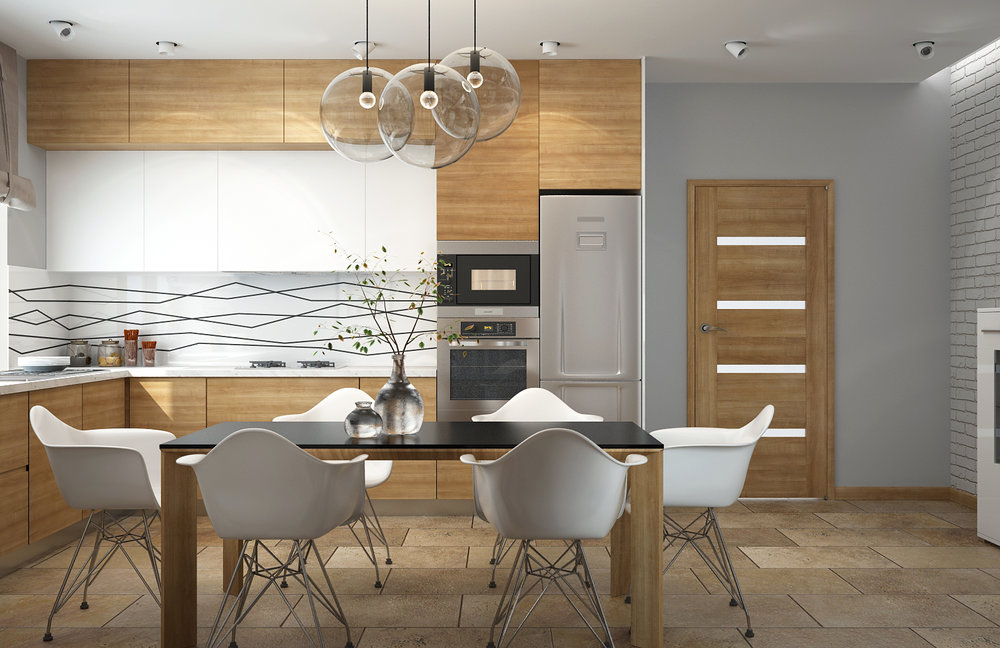 Kitchen in the big house - a place where the whole family gets together. Or, as in the case of our clients - two families. Create stylish and beautiful interior, which, both the older generation and young progressive guys, will enjoye, arrange a dining area, where it will be easy to get along a large family, as well as to organize the workspace of kitchen, considering the needs and priorities of two mistresses - is not so simple task.
Kitchen interior design project was created in a modern style with classical elements. The room turned bright, spacious and "warm", thanks to well-chosen color scheme.
Decorating the walls and floor space
Large kitchen area made it possible to allocate functional areas, apart from the necessary accents using different finishing materials.
One wall formalized decorative brickwork of bright color, and the rest are painted with pale gray. Opposite the dining table - large plasma and cabinets for dishes, glasses and various kitchen utensils.
The ceiling in the kitchen of plasterboard, multi-level, with a niche for concealed lighting. Along the perimeter of deployed embedded swivel fixtures. Above the dining area - hinged unusual chandelier in the form of glass spheres.
For the flooring reliable and durable granite light brown shade has been selected, which is in harmony with the overall color scheme.
Large sliding glass doors let in plenty of light into the room and expand the space, opening the view to the large balcony. Curtains made of natural materials create an atmosphere of coziness and comfort - what you need for a dining area.
Design the working area of modern cuisine
Here, we have tried to harmoniously combine classic and modern. Veneered kitchen facades - a tribute to traditions. At that time, as the apron is made in the spirit of modernity. Unusual abstract ornament on a white tile attracts attention and makes the room less stringent.
Technique is not hidden: large ultra-modern gray refrigerator, mounted oven and stove favorably contrasted with wooden facades.
Choosing furniture for kitchen
Unusual pieces of furniture reflect the desire to combine the interests of two generations. The large dining table is made of wood to match the facades, but with a black-coated ultra-modern countertops. White comfortable chairs, metal legs which are connected abstract plexus, look a bit futuristic, but in perfect harmony with an apron working kitchen area.